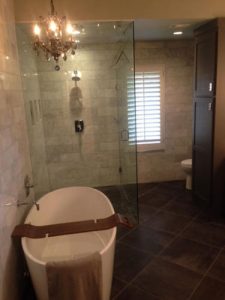 There's nothing worse than trying to get ready for the day ahead in a bathroom that simply isn't getting the job done. Whether you don't have enough space to move around or you're dealing with fixtures not working as expected, you don't have to go on suffering with a subpar bathroom. At Evander's Construction, we have years of experience providing our bathroom remodeling services to homeowners throughout the Dallas, TX area. From complete redesigns to updating a few fixtures, simply let us know what you need, and we'll be there to get the job done right.
There are many reasons why you may want to update the look and feel of one or all of the bathrooms in your home. From minor annoyances like cracked floors to bigger issues such as a sink that's constantly leaking, all these problems and more can combine to create a frustrating bathroom to use. Another reason to take advantage of our services is if you're looking to add a little extra space to your bathroom. Even just a few additional square feet can go a long way to giving you the space needed to move and breathe, especially if you're sharing your bathroom with family.
Even if your bathroom seems perfectly fine on the surface, you may just have gotten used to a less than ideal sink, toilet, or shower. You use these fixtures every day, so why not upgrade to something a little more luxurious and useful? By outfitting your bathroom with a suite of modern fixtures, you can completely change the way you live and get ready for the day ahead.
Our team will work with you to identify exactly what you need to improve every aspect of your bathroom. For more information about how you can benefit from hiring our bathroom remodeling contractor, Dallas, TX homeowners should give us a call!