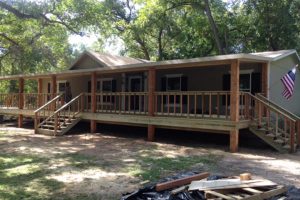 Here at Evander's Construction, we understand moving can be an unnecessary hassle. Beyond that, unless you're running out of space or in need of something more modern, you probably love many aspects of your existing property in the Dallas, TX area. It's where you've spent years building memories with your loved ones, so don't simply pick up and move the next time you're in need of a change. Our experienced team of contractors can transform your home into whatever you want it to be with our house remodeling services.
With more than two decades of experience in designing and remodeling homes, we work with you in-house to develop the home of your dreams. From the attic to the basement and everything in between, our top priority is to ensure you end up with the home you've always wanted while keeping costs down and performing quality work on a tight schedule. From light remodeling to complete redesigns, with have the knowledge, expertise, and resources needed to tackle projects of any size.
Do you find you're bumping into each other while you're trying to cook dinner? What about the fixtures in your bathroom? Do they feel old and outdated? Whether you know exactly what you need, or you're looking for some ideas, our team can help you find the perfect solutions for the problems you're running into in your home.
Even if you're just starting to think about remodeling your home, don't go another day without getting in touch with our contractor. Dallas, TX area residents have been relying on our services for years, and we've helped everyone from property owners whose homes have been damaged in storms to people who are just looking for some extra space. We invite you to browse our website to view a small sample of the projects we've worked on throughout Dallas, TX, and give us a call today to learn more from a member of the Evander's Construction team.