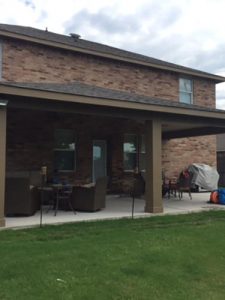 Here at Evander's Construction, we believe the interior of your home is just the beginning, which is why we've specialized in providing Dallas, TX area homeowners with a number of exciting outdoor additions to their properties. When you hire our experienced outdoor living contractor, we work with you to identify and develop key areas around you home, transforming them into exciting features like custom patios or even outdoor kitchens. There are many possibilities, and we can't wait to start realizing them with you.
Enhancing the exterior space around your home is a great idea whether you love entertaining or just want to take in everything the great outdoors has to offer. With a custom deck or patio, you will be able to easily step outside and into a luxurious outdoor area where you can relax, enjoy a drink, and even host a party. In fact, expanding and renovating the exterior areas around your home is a great way to reduce foot traffic inside whether your kids are bringing friends over or you're hosting a party for extended family.
We can even install an outdoor kitchen that allows you to prepare, cook, and serve meals right outside. Not only can this help to increase the overall value of your home, it also reduces your utility bills. Enjoying food and entertaining has never been easier when you can do it without even stepping foot inside your home. Our outdoor kitchens can contain everything from state-of-the-art grilling systems to visually stunning counterspace, so no matter what you need we make it happen.
These are just a few of the ways we can transform your home's exteriors. Dallas, TX area residents can learn more about our outdoor living services by contacting the team at Evander's Construction.